Reader's question
"I'd love it if you could recommend what colours I should choose for the new curtains in my living room. The walls are all painted in an off-white colour except for one that is a light green. The couches are beige and the rest of the furniture is wenge. The curtain will be hung on the green wall where the window is.
I desperately need your help, cause I don't want the room to end up looking either too much or too blant and everyone I ask seems to have a completely different suggestion. (The general style of the house is modern in earth tones.)"
Our recommendation
There isn't a one and only perfect option regarding your curtains, that's why you keep getting so many different opinions, depending on everyone's unique taste.
As for us, we think that you should choose within the colour palette of the room or similar tones.
1st suggestion: Neutral colours and natural fabrics
Earth tones dominate your space and the style is modern. So it makes perfect sense that the curtains should be a natural fabric in light colours i.e. cream, off-white, ecru, light grey or ivory that will add a nice contrast to the green wall.
For example you could choose linen curtains in an off-white or ivory colour.
2nd suggestion: Modern and youthful
Because of the background wall's unique colour (light green), when it comes to curtains' colour you could stay within that colour scheme. Although we wouldn't suggest entirely green curtains, you could choose a fabric that has green details (ideally a lighter or darker shade than the colour of the wall).
You can see an example below where olive green stripes add character to the white curtains.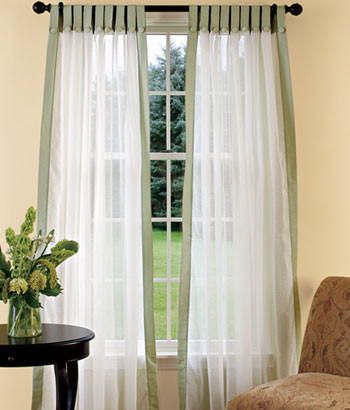 ---
---