Readers question:
"The flooring of my apartment is white marble with light veins. The walls are light beige. I am planning to purchase a dark grey sofa, quite large in measurements. The style of the sofa is modern. What color to choose for the rug in the living room?"
Our advice:
The sofa will probably work as the focal point of the living room due to its large measurements and its imposing style. The dark grey color and the leatherish texture of the sofa make the furniture look quite austere. So our opinion is to opt for a lighter rug to make a modest contrast with the sofa.
On the other hand the color of the walls is warm and yellowish. However, we think that you should ignore it and draw your color scheme focusing mostly of the flooring material and the sofa. The reason for this focus it that it is much easier to change the color of the walls that the flooring material and the sofa.
Now in relation to the rug color, we suggest to exclude the red-brownish tones since they are suitable for more classic style apartments. Moreover, we would not suggest a totally white rug for the simple reason that it would disappear over the white marble.
So, let's summarize to a few guidelines.
The rug could be monochrome, either in solid color or with simple geometric patterns.
The rug should be light and neutral in order to work as a background that will highlight the dark sofa.
The rug should be darker than the white flooring.
A good option is the spectrum of light, grey tones and silver-grey tones.
Another interesting option is the spectrum of neutral-cream tones.
We selected a few, interesting examples:
A grey-silver rug with floral motifs. The polished texture of the sofa and the silky feeling of the rug will give an air of luxury and lavishness to the space.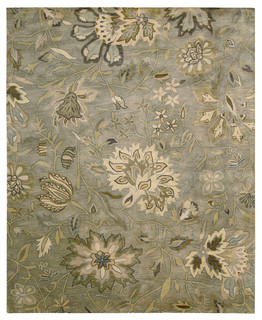 A shaggy, faux-fur like rug in neutral and warm tone. It is an elegant choice that matches both with the sofa and the color of the walls. Moreover, it will make a humble contrast with the white flooring.
An austere grey rug. It is a safe choice that matches with almost all styles and colors. Generally grey color is ideal for industrial and contemporary style spaces.
A geometric pattern rug

. Such a rug can become an eye-catching object that will dominate space. So, if you opt for something like that, then you should probably keep the rest of the decoration modest and minimal.