Reader's question
"I would like to decorate my bedroom, but I find it very difficult because of the walls color. It is an attic bedroom with dark hardwood flooring and the walls are blue green to teal. I have a wrought iron bed. How to make the room look more romantic?"
Our recommendations
Romantic style is a very personal and elegant style that exudes intimacy and warmth.
How could you create a romantic aura in your room:
In the first place, you should not have any fitness equipment, TV, computer, and electronic devices which generate the everyday life stress. If you can't stand being without watching television, hide it in a cabinet that it will open when watching.
The bed: the sleeping area is the most prominent feature in a bedroom. Your bed should always be tidy, clean and resemble a fluffy cloud. Place a pillow top mattress and several pillows made of natural fabrics at head of the bed.
An alternative choice would be toile bedding.
www.ballarddesigns.com/camille-toile-shams/linens-fabrics/bed-pillows/12278
The color palette: teal is a dynamic and intense color that dominates the area. Therefore, all the fabric colors should be pale and neutral, such as the creamy white, ivory, pale blue, etc. Generally, you should choose a monochromatic scheme (i.e. shades of white and light shades of teal and blue) and avoid dynamic colors such as yellow and red.
Window treatments: If you have a relaxing view through the window and plenty of natural light enters the room, you can choose curtains in a light semi-transparent fabric. If, however, the view is not interesting and the sunlight is annoying you can select opaque curtains of velvet or silk.
http://tpbpn.com/windows-curtains/39/window-curtains-images/
Lighting: Avoid bright light coming from only one direction. You could select diffused soft lighting instead by placing table lamps or wall sconces. Select lamps with dimming capacity to fluctuate the illumination. Since your roof is wooden you could hang an elegant chandelier.
www.fleamarkettrixie.com/2012/02/hello-everyone-its-mari-here-from.html
Add a vintage item referring to the past, for example a mirror. You can choose either a wall-mounted or floor mirror.
Furniture: pieces of furniture that fit with the romantic style are small, elegant furniture reminiscent of the Victorian era. A patina of the surfaces, whether wooden or metallic, adds a nostalgic tone.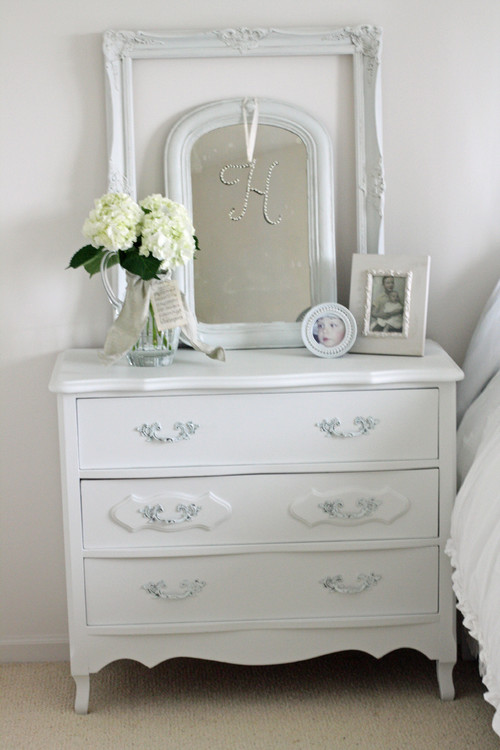 Place an area rug underneath bed to give you a soft landing for your feet.
Flowers: Arrange dried or fresh flowers in a basket in the room or alternatively wallpaper one wall in a floral print.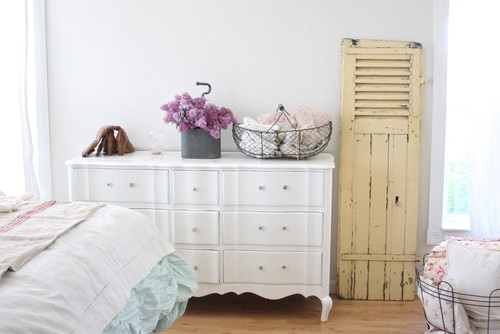 Finally, keep the room well organized and try to avoid overcrowding.