INTERIOR DESIGN & ARCHITECTURE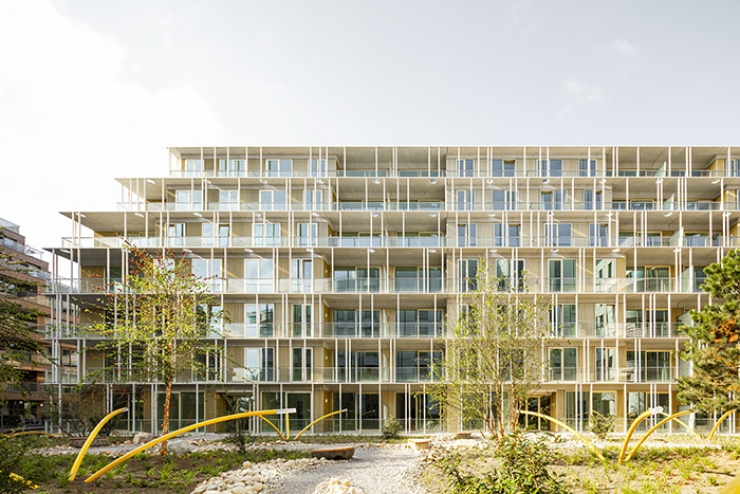 Like a moored cruise ship, The Line fronts onto the IJ waterway in the Overhoeks district of Amsterdam. Sitting on private verandas behind the refined grid that wraps the building like a veil, residents enjoy views of the water just in front of them and of the city centre. The verandas are real outdoor rooms, their ceiling design making them feel like an extension of the interior space.
Containing 72 rental apartments, the building is located in the middle of Overhoeks, a dynamic residential and employment area where buildings and greenery alternate with one another in a campus-like setting. Because of the dense development in the district, providing sufficient daylight at street level was a key design objective. Setbacks on the upper floors ensure good daylight conditions on the lower floors.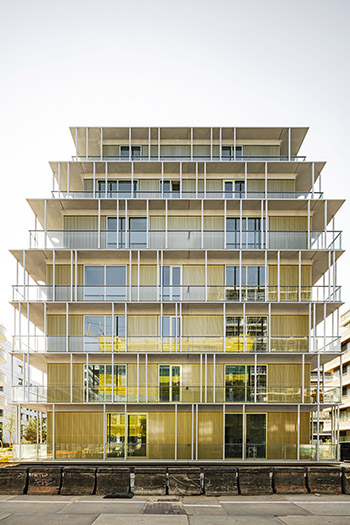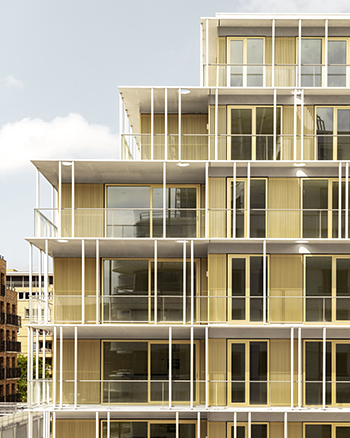 The identity of the building is determined by a delicate grid of 7-cm-thin balcony railings and 880 super-slim concrete columns. The latter are made of high-strength concrete (USHB) that can be shaped into very slim components, lending the building a stone-like appearance. The skin that wraps the apartments is articulated with vertical aluminium profiles that are anodized a light shade of gold. We worked intensively with concrete specialist Hi-Con Nederland to develop the graceful, high-strength balcony panels and columns for The Line.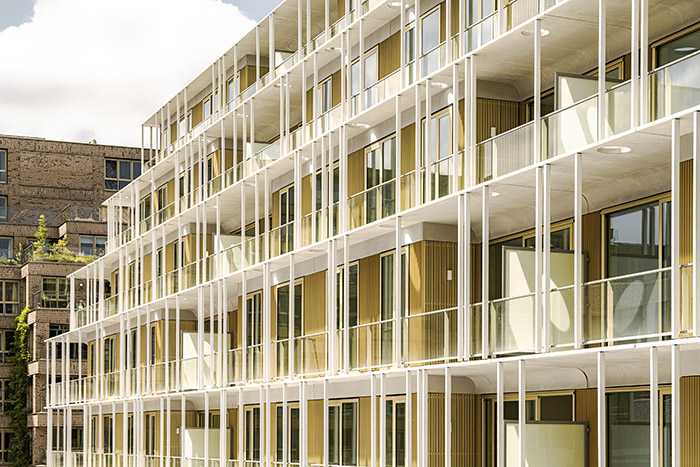 "The outdoor spaces are vertically connected by a delicate grid of concrete columns that wraps the main volume"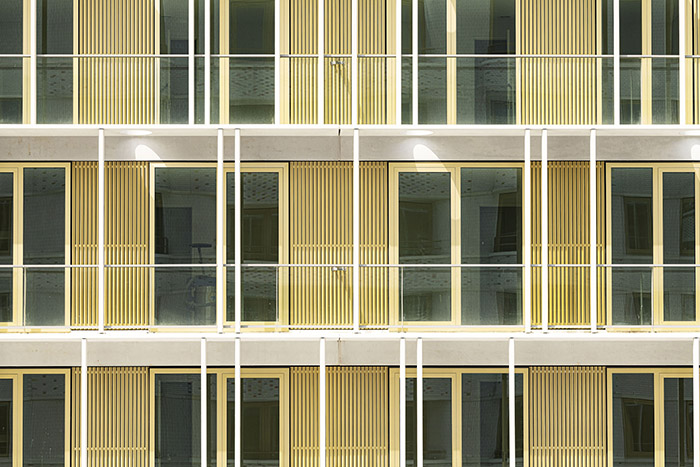 All apartments are reached from three vertical points of circulation, accessed via spacious entrances halls finished to a high standard with oak panelling. The building contains a wide variety of apartments, depending on their position within the building.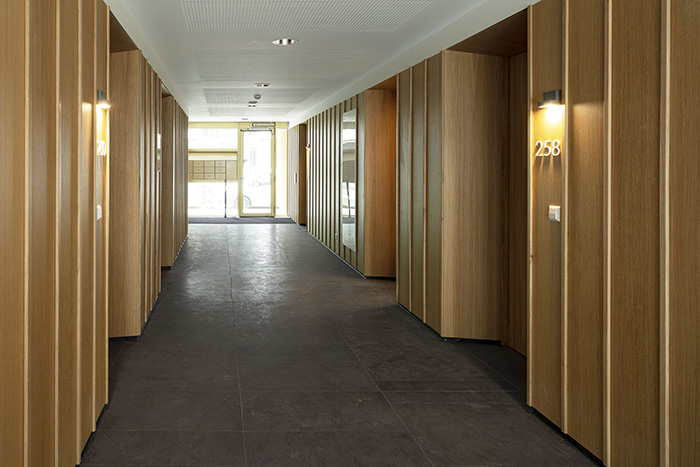 Equally notable is the sustainable range of materials used for The Line, ensuring it will enjoy a long life-span. Many facade components can be removed and recycled if and when required. The apartments are connected to a shared thermal storage installation, which provides cooling in the summer and heating in the winter. In addition, the shared garden contributes to biodiversity and the wellbeing of the residents.
In addition to The Line, Orange Architects is working on another residential building, called the Bow, in the Overhoeks project area. Construction work on this building, also designed for property developers Amvest, has just started.
Text description provided by the architects.
Colophon
Name: The Line, Overhoeks
Location: Hammarbystraat 156 - 302, Amsterdam
Design: 2016 >
Realisation: 2021
Size: 7.300 m2
Architect: Orange Architects
Client: Amvest
Design team: Jeroen Schipper, Bas Kegge, Julija Osipenko, Angeliki Chantzopoulou, Paul Kierkels, Rutger Schoenmaker, Fung Chow, Mario Acosta
Urban planner: Geurst & Schulze architecten
Advisors: Goudstikker De Vries, Mabutec, DGMR, VGG, Buro BIM, JMJ Bouwmanagement
Landscape architect: Bureau Sant en Co
Contractor: Bouwbedrijf De Nijs
Concrete: Hi-Con Nederland
Photography: Sebastian van Damme