INTERIOR DESIGN & ARCHITECTURE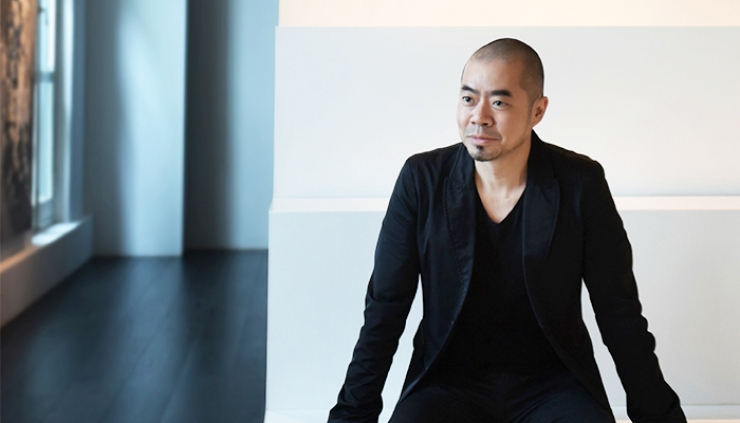 Colin was kind enough to answer our questions regarding his style, sustainable design, and his perspective of designing a project in Greece. Below you can read our interview with Colin Seah.
Architecturally trained in the US & licensed in Singapore, Colin Seah honed his sensibilities working for the likes of Rem Koolhaas and Daniel Libeskind. He also spent 4 years at the National University of Singapore's Department of Architecture researching design pedagogy and serving as design critic.
As MOD's Founder & Director of Design, Colin has been named Designer of the Year by International Design Awards USA 2010, and is a two-time recipient of Singapore's highest design accolade, the President's Design Award. He is also a two-time Grand Prize Winner of the Gold Key Award, the highest international hospitality accolade, named Hong Kong Perspective's '40 under 40 architects' and Marcus Corporation Foundation Prize 2007 'emerging architect with potential for greatness'. Recognized as "Rising Star in Architecture" by Monocle, Colin Seah has been invited by the Singapore Tourism Board to redefine Singapore as a destination for 2020 and beyond.
decobook: How would you describe your signature style?
Colin Seah: Honestly, MOD's design aesthetics and style varies from project to project, we see ourselves as story tellers telling very specific stories for each project. Sometimes very tranquil and calm, other times; dramatic, bold and whimsical.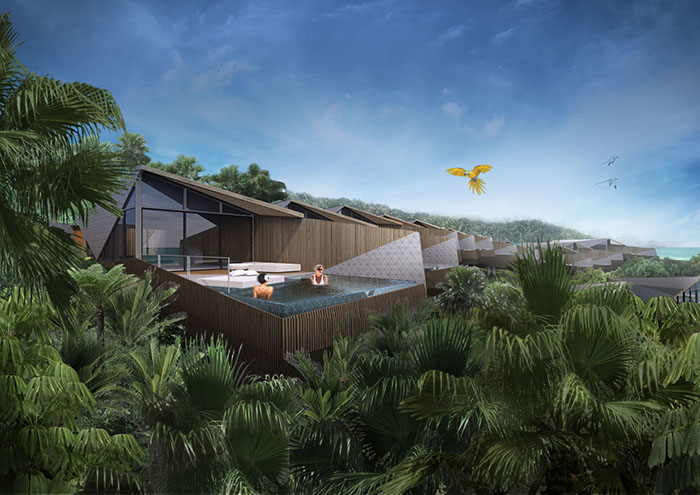 W RETREAT PHUKET RESORT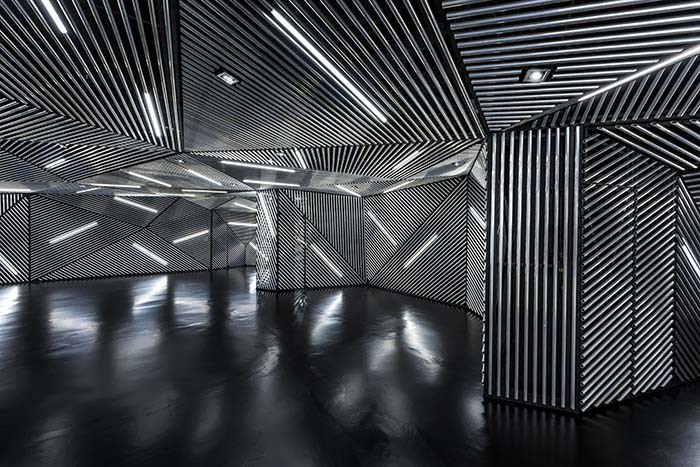 RACE ROBOTICS LABORATORY
In this case, The Prestige Hotel is nestled within Penang's UNESCO World Heritage neighbourhood of Georgetown and draws inspiration from its local colonial history as well as lush island identity to create a "Tropical Victorian Eden" experience for its guests.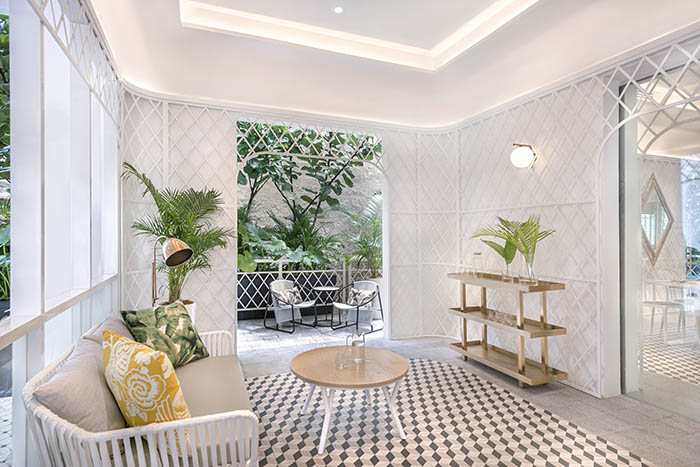 THE PRESTIGE HOTEL
To differentiate itself from the two common approaches taken by other notable local hotels, the design neither mimics heritage nor is purely modern. Combining the most characterful elements of the historic context with an innovative and modern sensibility, we sought to "transpose heritage"; not to be ruled by it, but to run with it in order to create something fresh but yet familiar.
The Prestige Hotel begins by "transposing heritage", and develops its narrative beyond this to include whimsical elements inspired by visual illusion and magic.
Initially inspired by the need to overcome the monotony of 143-meter long guestroom corridors, our response was to employ "visual illusions", designing alternating dark & light colour zones, as well as placing rotating shadow-casting luminaries to animate the guest journey. Excited by its potential, we subtly introduced other elements of illusion such as "levitation" and "concealment" throughout the guest experience.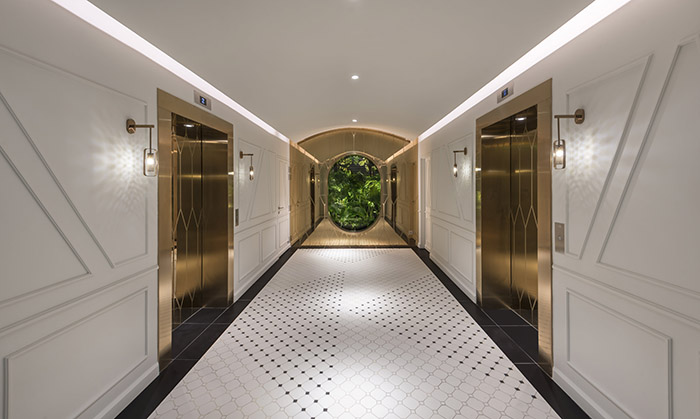 THE PRESTIGE HOTEL
A holistic design approach allows this to be infused into every element of the experience, including brand strategy, interior design, landscape design, signage design, installation art, and graphic design.
With this, we aspired to embrace local cultural cues in our own distinctive way. Since its soft launch, both regional and local market response has been positive with occupancy rates averaging 85-95%.
db: Singapore is considered to be a clean and green city; being a Singapore-based studio is environmental and social sustainability a part of your design process?
CS: Penang's city planning guidelines meant that the newly built architecture had to assimilate into the neighbourhood's rich historic context, giving rise to its traditional proportions and detailing.
Together with the Architects (KL Wong), we planned the ground floor such that the Lobby, Glasshouse Restaurant, and tenanted lifestyle retail/F&B spaces are designed as 'standalone storefronts' interconnected by naturally ventilated walkways.
Taking advantage of the local climate, our proposal sought to find an alternative typology to the fully air-conditioned enclosed hotel interior, utilising the alfresco spaces for dining or dwelling, as well as circulation.
We believe this meets environmental concerns and provides for guests' well-being to enjoy tropical weather in an appealing way.
This typology also breaks down the linear scale of the 143-meter-long building, and recalls a 'shop-in-shop' concept, reminiscent of the historical English shopping arcade.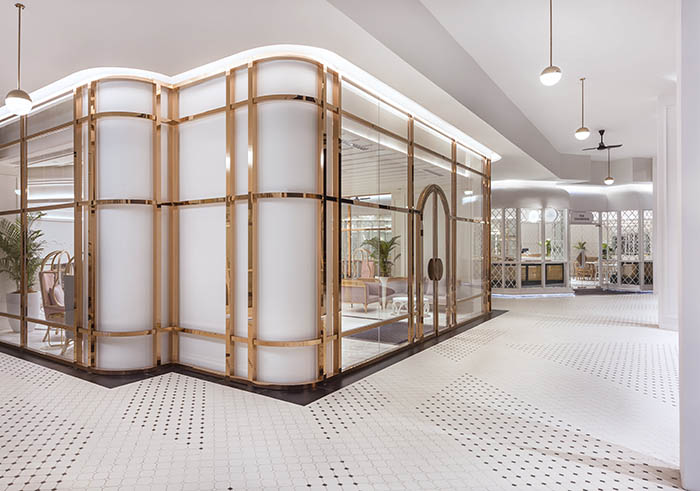 THE PRESTIGE HOTEL
The tenanted lifestyle stores are curated by the owner to complement The Prestige's narrative and they include San Francisco Coffee, a fine dining restaurant, local clothing brand, dessert café, florist and pharmacy, amongst others.
db: Where do you draw inspiration from?
CS: As an architect and someone who used to do photography, I enjoy crafting scenes and experiences, not just spaces. To craft a holistic experience for this hotel was a real privilege. The entire Hotel experience was carefully created and curated by us, and we were responsible for the holistic brand strategy, interior design, landscape design, signage design, installation art, and graphic design throughout the entire Prestige Hotel.
A recent experience which was wonderfully inspiring, was that of the Six Senses resort at the Douro Valley in Portugal's wine country… it had extensive, rugged and beautiful grounds where we went for daily walks; as well as 2 of the best dining experiences ever: delectable vegetarian food at TERROIR with produce from their own garden helmed by chef Ljubomir Stanisic; and a Chef's Table cum wine pairing experience which is to date my most memorable meal ever (by the way, wine pairing is by the full bottle, not just a glass!!) and beautiful rooms and spa.
db: As an acclaimed architect, what advice would you give to young designers?
CS: All successful projects require a shared collective vision between owner/operator and designer and The Prestige was no exception. The client was incredibly supportive and willing to test ideas that often had no precedents in the design or "business of hospitality" world.
If the client's financial objectives are reasonable, the design vision really should never be compromised by them. A savvy designer understands more than just form and function, but also the human psyche and the need to have finances in equilibrium. I personally find it more satisfying to be able to create a memorable experience that's also profit generating, I feel this is a critical aspect of creating design that is sustainable and meaningful.
db: In a previous interview, you stated that it is a dream of yours to "design an entire resort complex, from the master plan all the way down to the plates on the tables". Could you envision that project someplace in Greece?
CS: We're working on a wide variety of hotels, which is quite exciting for us as they are all in segments which are new for us. One is a ski resort for the Marriott brand, the other is a Hot Spring resort for IHG. We're also starting a new hotel project here in Singapore which we're extremely psyched about! We've been designing hotels all over the region and coming back home to design something for the local scene brings a sense of familiarity and excitement! Especially since MOD began its design trajectory here in SG with the New Majestic Hotel, it's like coming full circle!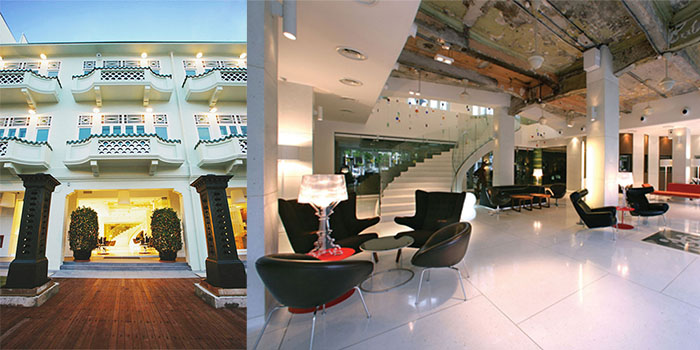 NEW MAJESTIC HOTEL
You're right, I particularly love crafting experiences holistically, we would love to do that someplace in Greece! We were last there, to watch U2 live in Athens and then spent a memorable week in Santorini. It would be fabulous to have the opportunity to design a holistic experience someplace in Greece and find a meaningful way to capture history and culture, and yet transform and adapt it for modern and sophisticated travelers.
Ministry of Design is a prestigious award-winning integrated architectural, interior design and branding firm, headquartered in Singapore, with offices in Beijing and Kuala Lumpur.
Created by Colin Seah to question convention and redefine the spaces, forms and experiences that surround us, MOD's explorations are created amidst a democratic studio-like' atmosphere and progress seamlessly between form, site, object and space.
"Each MOD project endeavours to be delightfully surprising but yet relevant, distinctly local but still globally appealing."
Ifigenia Kotitsa is an architecture and interior design writer at decosoup.com & decobook.gr.