Cork is a renewable material and during the last years became an increasingly popular flooring product. Cork flooring is resilient, therefore provides a comfortable surface to walk upon or stand for many hours. Moreover, cork surface will return- or bounce back- to form after being weighted. If for example, a piece of furniture causes an impression on cork, the floor will be restored to its original form after the removal of the furniture. In general, cork is a soft and flexible material with resistance to several stresses, even to high heels. Other popular resilient materials are vinyl, linoleum and rubber.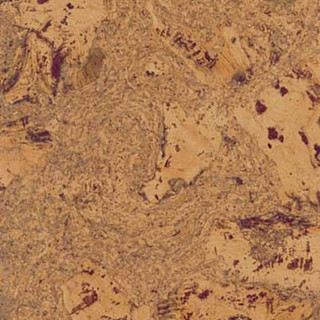 Cork flooring has excellent thermal and sound insulation properties and reduces the level of background noise. So, it is ideal for noisy offices and classrooms. It is also suitable for floor heating system.
Further, it is a hypo allergic and antistatic material. The surface is warm and soft, ideal for barefoot walking, kids' rooms and nurseries. Due to its flexibility it is also a good choice for dance schools and gyms.
To protect cork flooring from stains and moisture it is necessary to varnish it after installation.
The advantages of cork flooring are:
Excellent thermal and sound insulation properties.

Resiliency.

Slip resistance.

Hypoallergic and antistatic properties.

Natural look.

It is comfortable underfoot.

Easy to clean (vacuum regularly and damp mop occasionally)
The disadvantages:
Not available in many colors and designs.

Needs coating with protective varnishes.
From where cork comes:
Cork comes from the bark of the cork tree, which replenishes itself once the cork has been harvested. The tree is not damaged, therefore after some years the cork can be harvested again. So, cork is a renewable material. Tiles are made by grinding the bark and mixing it with resin. The cork can also be mixed with dyes, creating tiles in a variety of colors.
Must-Know before installation
The floor must be clean and flat without cracks.

Cork is basically a natural product. So before installation you should acclimate the tiles by removing them from their cartons and putting them in the room where they'll be installed 48-72 hours before installation.

Cork tiles might have minor irregularities in size. So, most manufacturers recommend arranging the tiles in such way so the joints are not continuous.

In relation to expansion joints, some manufacturers require expansion gap between walls and floor while some other don't.