Carrara marble was the favorite marble of the famous Renaissance sculptor and painter Michelangelo. Even, the well-known statue of David was sculpted in this type of marble.
Carrara marble is quarried at the city of Carrara in the province of Massa and Carrara in the Lunigiana, in Tuscany, Italy. The background hues of the marble are white to grey. Though, the most impressive feature is the dark grey or blue-grey swirls and veins that run randomly along the surface of the material. Every piece of carrara marble is unique and you can never find two identical pieces.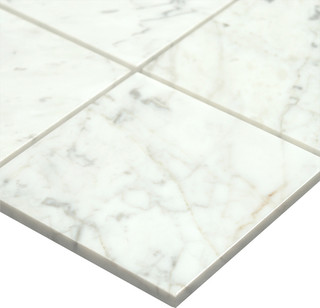 In relation to architecture and interior decoration, carrara marble is considered to be one of the most appreciated, natural materials, known from the time of the Roman empire. Pantheon in Rome and Trajan's column are only some of the constructions that were made with carrara marble.
Carrara marble in flooring: All types of marbles have a cold, soft feeling and are suitable in hot climates. During the winter, the placement of warm rugs is recommended. Polished carrara marble is not recommended in high traffic areas, because of the possible scratches and damages.
Carrara marble in kitchen as countertop: It is an elegant choice that brings the air of Italian style in the kitchen. However, before selecting it as a countertop material, you should consider that the surface is porous and sensitive in stains and scratches. For this it is required, to use a sealant on a regular basis (up to 4 times a year) and use cutting mats to protect the material.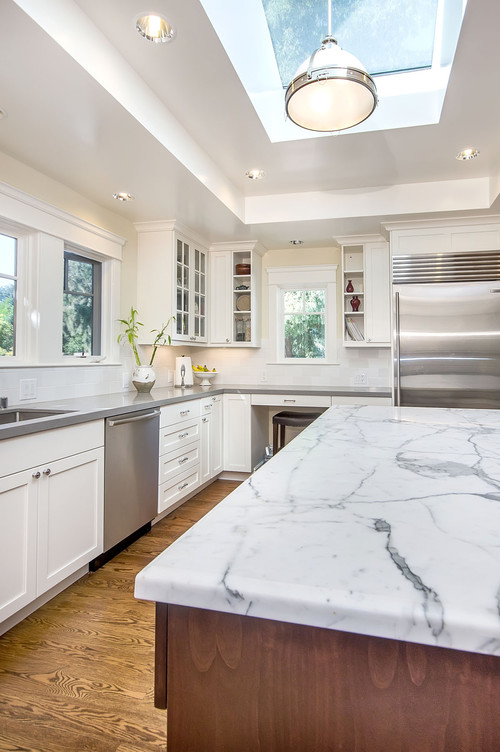 Carrara marble in bath: The material can be used in flooring, walls, sinks, baths, etc. However, due to constant moist the pattern and colors of the marble might change slightly.
How to make the best of the material: The most impressive feature of the marble is definitely the texture with the random grey veins. Therefore, it is better to use the marble in large pieces, as an artwork of nature, and not in small tiles.