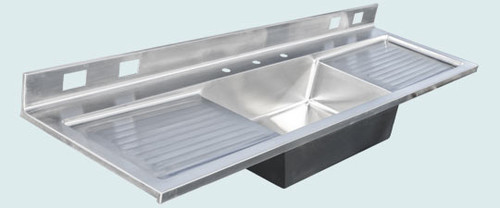 Stainless steel is one of the most durable materials and it continuous to look good and stylish, even after many years of hard use. The surface does not easily corrode, rust or stain with water as ordinary steel does. Even after many years of use the surface remains resistant, easy to clean and hygienic. A stainless steel sink is seamless, non-porous and highly hygienic.
The underside of bowls and worktop should be applied with sound deadening panels or a material such as bituminous rubber compound to minimize drumming.
Finishes: Polished, brushed, satin.
Typical bowl configurations: Round and rectangular
How to protect the sink and the worktop:
Avoid cleaning the surface with strong bleaches

Do not use silver dipping liquids. Such products might dull the metal surface

Do not use strong acids
How to clean the surface from the limescale spots: It is easy to clean the stainless steel surface with a soft cloth and a mixture of water and vinegar. You can also use limescale removing products.
What happens when aggressive liquids, like tomato or orange juice are split on worktops: On most natural or composite materials the juice will penetrate into the material. However stainless steel is a non-porous material and after cleaning the surface will be pefrect. Stainless steel does not need any additional surface protection, like protective coats or chemical paints, which can be damaged and come away. The material is resistant to acid foodstuffs and is a safe food contact material. It is also resistant to high temperatures. Finally, it has a certain level of elasticity and does not easily crack when heated, like for example the ceramic worktop.
Finger marks are visible, especially when the surface is new and polished. However, after some use the effect of finger marks diminishes. Also industry has developed finishes that are less susceptible to showing finger marks.
Bibliography:
Euro Inox. (). Home (animation): At home with stainless steel. Available:

http://www.euro-inox.org/ISSF/EN/flash.html.

Last accessed 26/11/2013.

Charlotte Baden-Powell, 2005. Architect's Pocket Book of Kitchen Design. Edition. Routledge.