Glass bottles can be recycled in so many ways. You can paint them with spray, you can cut them in half, you can decorate them in several ways. However, some glass bottles have such an unusual and interesting shape that can be used as they are.
The only thing you have to do it to take the label off the bottle. For this, you must put the bottle into warm water and let it soak for a while. Then you will be able to pull of the label easily. Scrub the bottle with water to make sure that all glue will come off.
Play with the arrangement: In this project, four glass bottles of retsina "kechribari" were arranged in-line on the top of a low bookcase. This linear, strict arrangement was ideal for this minimal appartment.
Reuse vintage glass bottles: In this project, some vintage european demijohns were used as eye-catching flower vases.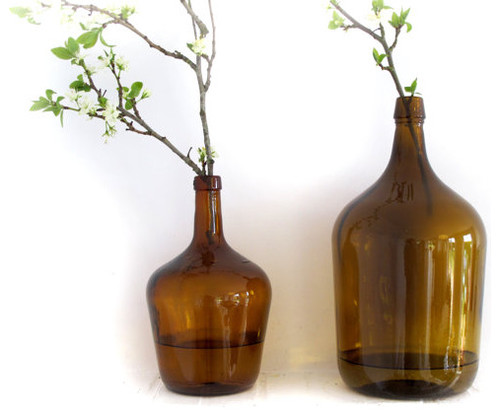 Arrange clear bottles in long rows:

To make the composition more stylish you can fill some bottles with sand, sea shells, small driftwood pieces, small rusted objects, etc.
Group various bottles together: In this project a collection of glass bottles were arranged in front of sunny window.