Reader's question
"I am thinking of purchasing a large dining table 2.00m x 1.00m, which is great for meals and gatherings! Is a square dining table 1.40m x 1.40m comfortable for 8 people? I like French style dining chairs like the ones I have attached. I am thinking of mix n' match decorating style in my place! I would like a modern sofa with a bergere and a classic dining set in combination! What is your opinion? Thank you in advance"
Our recommendation
The selection of the dining table shape depends on the dimensions of the space and your stylistic preferences. The 1.40m x1.40m dining table is suitable for 8 people; it should have 4 thin legs or better one central leg.
Regarding the mix n 'match style are thinking of we mention that this style is a special decorating style, which enables the combination of retro and vintage elements with modern trends, using existing old furniture. The combinations should reflect your personal taste, be proportionate and harmonic without aesthetic acrobatics.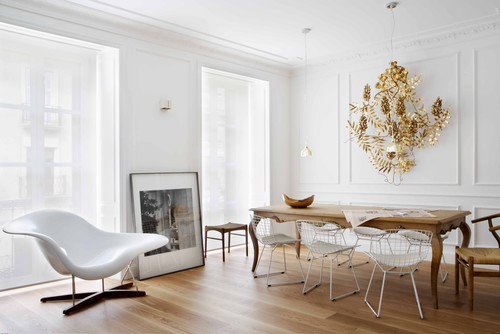 A contemporary living set can be paired with a French style dining set. An even more dynamic intervention would be to choose modern chairs and blend them with a classic dining table.
Keep similar decorating style options to the other elements of space, e.g. decorative objects, textiles, paintings.