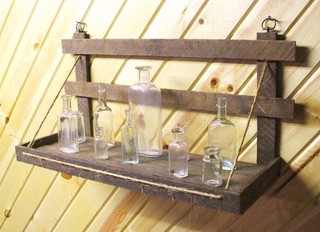 Wabi-Sabi is not a decorating "style" and it is not a set of rules about arranging furniture in our homes. We can't just hang crystals, or place mirrors or rearrange our bed and expect to change our lifes. Wabi-Sabi, unlike Feng Shui is not a set of rules, but it is rather a mind-set, a way of living modestly with a deep and true appreciation of daily life.
What it means the term "Wabi-Sabi"?
The term Wabi-Sabi cannot be translated directly into English. Wabi stems from the root Wa, which means harmony, balance, tranquility, quietude, peace. In early, Japanese literature of the 5th and 6th centuries, Haiku poets used the word Wabi, to describe sadness and the loneliness of living in nature. They also used it to describe the state of being humble by choice and in tune with nature. A wabi person epitomizes Zen, he or she is content with very little, does not desire to be anything else, is free from greed, laziness, and anger. On the other hand, sabi connotes the natural process of weathering. By using this word we describe for example, the corrosion of the metal or the wrinkles on a woman's face. However, Sabi, not only regognizes weathering but also appreciates the beauty that comes with the patina of age. In other words, weathering objects, materials, animals and of course, human beings become more interesting and beautiful as they mature. Putting the two words together we have the meaning of the term Wabi-Sabi. Wabi means modest and balanced and Sabi means beautiful although weathered and rusty.
Wabi-Sabi is the Japanese art of appreciating things (surfaces, spaces, pieces of furniture, decorative objects, fabrics, etc) that are imperfect, primitive, weathered, incomplete, unique. The beauty lies in ordinary things, like in a stone for example, in rust, in water, and even in the accidental cracks of a pottery jam. By accepting and applying Wabi-Sabi into your life, you accept that everything changes, beaty is ephemeral, nothing lasts forever, in other words you become aware of the natural cycle of growth and decay and by this you become more conscious of nature and life. Among many professional, probably crafters understand deeper the notion of Wabi-Sabi and the beauty of an imperfect, handmade object.
Convert your home into your personal sanctuary.
In modern world, humans live in a context of consumerism, materialism, speed and competitiveness. Success, youth and perfections has become an obsession to modern world. However, Wabi is to be satisfied with even a little, modest hut. Home, should help people relax, reflect on themselves, observe the world from a distance. Wabi-sabi interiors are hospitable, friendly, personal and comfortable but not austere or cluttered. The beauty of imperfection does not imply that the home should be messy or slovenly. Quite the opposite; Home should be clean (cleanliness implies respect) without clutter or visual distraction. In a similar way, the beauty of weathering does not imply that we should not repair our homes. It means that we should respect objects, keep them in good contition and repair them if necessary
According to Tadao Ando, in home decoration, wabi-sabi inspires a minimalism that celebrates the human rather than the machine. Possessions are pared down, and pared down again, until only those that are necessary for their utility or beauty (and ideally both) are left. What makes the cut? Items that you both admire and love to use.
Wabi-Sabi spaces are unique and authentic. True sabi can not be acquired or manufactured. It is a gift of time. After, all it is time, use and weather that create all thise unexpected cracks on a surface.
Contemporary Kitchen by Portland General Contractors dioxua
Wabi-Sabi in interior design and Home decoration
Materials: Think about the surfaces of a modern home. Most of them are shiny, hard and durable. Popular materials in interior design are either synthetic or cold like plastic, stainless steel, glass and granite. However, Wabi-Sabi, appreciates materials that not only are natural, but also vulnerable, prone to weathering, crucking, peeling, etc. Such materials, are the metals that rust, the aged wood, the faded and used fabrics, the rice paper, the recycled materials with a rust finish.
Remember, however, that Wabi-Sabi is not only the materials, objects and style but it is a way of living, an attitude that encourages people to slow down and enjoy simple things in life, like crafted objects, a beautiful view, a sunny morning in the room, the ephemeral sound of a rainfall. To the Wabi-Sabi point of view, behavior is equally important as objects, furniture and materials.
Objects: Wabi Sabi objects have history, soul and they tell a story. They are often, humble, handcrafted objects, like handmade quilts and wood curved furniture, found in flea markets and in bazaars. Objects, according to Wabi-Sabi should be useful or have a profound meaning fro the owner. Users, should keep only those items that love, respect, or need and eliminate all the other inessential objects. The arrangement of objects it is better to be free and asymmetrical, since perfection and strict organization restricts owner's impulsiveness.
Bring nature to the interiors like for example seasonal flowers, plants or tree branches. Flowers shouldn't arranged but they should placed in their natural form. Wabi Sabi admits that we cannot improve nature but we must appreciate and observe it without judging.
Light. Wabi sabi interiors are dimply lit. Turn off harsh light and prefer muted lighting, by placing table lamps, floor lamps and candles.
Colors: To the Wabi-Sabi point of view, colors should be relaxing, soft and muted. Grey, brown, matte gold, earthy green and black are typical Wabi Sabi colors.